September 2009 —
I started with a hull kit from Skiffkits of Anchorage, AK.  Neal does a fantastic job:  The pieces are precisely cut and labeled, but the directions for building it are found in a book by the designer.  I have to confess that I all but "stole" it from a widow in NV.  Her husband had died and she just wanted to be rid of it.  After it had been advertised for several months, I decided to drive down and pick it up.  She gave me a *very* good deal.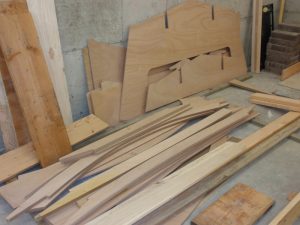 Step 1:  A building frame is required.  This is the basic frame on which the whole boat will be built. It is 18′ x 4′ and in my case I put it on casters.  I was again fortunate inasmuch as the builder of the new shop I'm in, left me a couple of 2x12s of more than sufficient length.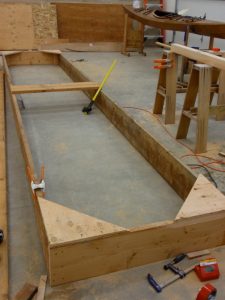 Step 1a:  At that point, I realized I had to get some of the lumber lying around off the floor and out of the way.  I found a pattern for a cheap rack, made from a sheet of 3/4″ CDX.  It was easy and quick…worked well.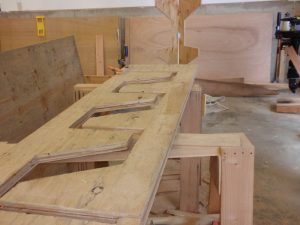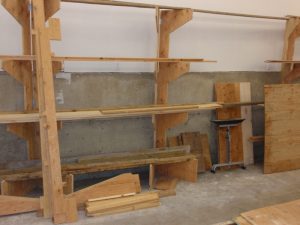 Step 1b:  Then I needed a bunch of saw horses so I built four more matching the ones I already had.  Unlike Renn's saw horses, mine are unusually tall, which I find much more comfortable for a taller guy with a borderline back.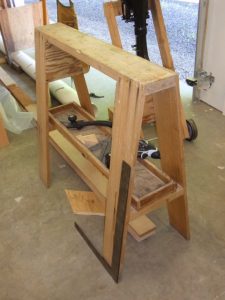 Now, let's start building.