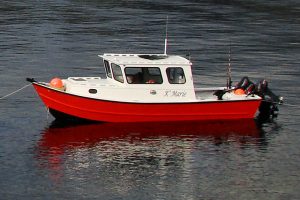 It has been so long that I've forgotten how or exactly when I learned about Renn Tolman and his Alaskan Skiff(s).  I'm sure it was at least 8 or 10 years ago.   Renn spent 20+ years building fishing skiffs in Homer, Alaska for commercial fisherman.  Needless to say, this is a demanding environment and over the years Renn continually experimented and refined his product.   Eventually, he decided to write a book about the skiff and how to build it.  With feedback, comments, suggestions and requests for changes or modifications, he developed three variations — standard, widebody and jumbo models.  And he published another edition to describe the variations and further information on building techniques and plans.  This latest is Tolman Alaskan Skiff and can be found on Amazon.
Whoops.  I overlooked explaining what a Tolman Alaskan Skiff is.  Here's a description in Renn's own words.  Renn writes,
"Tolman skiffs are dory-style skiffs with semi-vee bottoms made of plywood/epoxy/fiberglass (sometimes called stitch-and-glue or composite construction). I have built over sixty since 1986 for sport and commercial use, and many others have been built by amateurs and professionals in the US, Canada, New Zealand, Europe, and elsewhere. I retired from building skiffs commercially in 2000, and I now spend much of my summers using mine here in Alaska.
I have designed three models, the "Standard," the "Widebody," and the "Jumbo." The Standard and the Widebody are identical in profile, but the Widebody has a 3-inch "chine flat" between the sides and bottom, like most fiberglass boats (ten million fiberglass boats can't be wrong). The Jumbo is a larger skiff in every dimension, has a 4-inch chine flat, and has a deeper vee bottom. The Jumbo is designed specifically to use the new four-stroke 115 to 150 horsepower engines."
In any event, I bought the book and joined the Yahoo Tolman group.  It turns out this is a very active group of guys (I can't recall any gals) who are either building Tolmans, have built a Tolman (or two), or are hoping to do so.  What a great group!  Plenty of humor, tons of useful advice and interesting exchanges about boating, fishing techniques, and so on….but most all somehow centered around building a Tolman. er, except for the occasional foray into politics.  🙂
A couple of years ago, the Yahoo group was given up in favor of "our own" Tolman web site.  A great guy, Steve O., is an experienced web master and volunteered to set up a site and act as web master.   If you have any interest in Tolmans at all, you can't do better than to check out our current home, www.fishyfish.com.
A wee bit about my woodworking background.   Nearly 12 years ago, I did a stitch and glue kayak kit from Pygmy of Port Townsend.  It was the first time I had ever worked with epoxy and fiberglass but it came out well enough, not a piece of art, you understand, but acceptable.  I have also some experience with house framing, building small out buildings and a built-in bookcase or two.  In short, I know my way around hand and power tools, but would never qualify as a journeyman woodworker.
When I first wrote this, I was still finishing up a 15′ Faering based on a design of Iain Oughtred.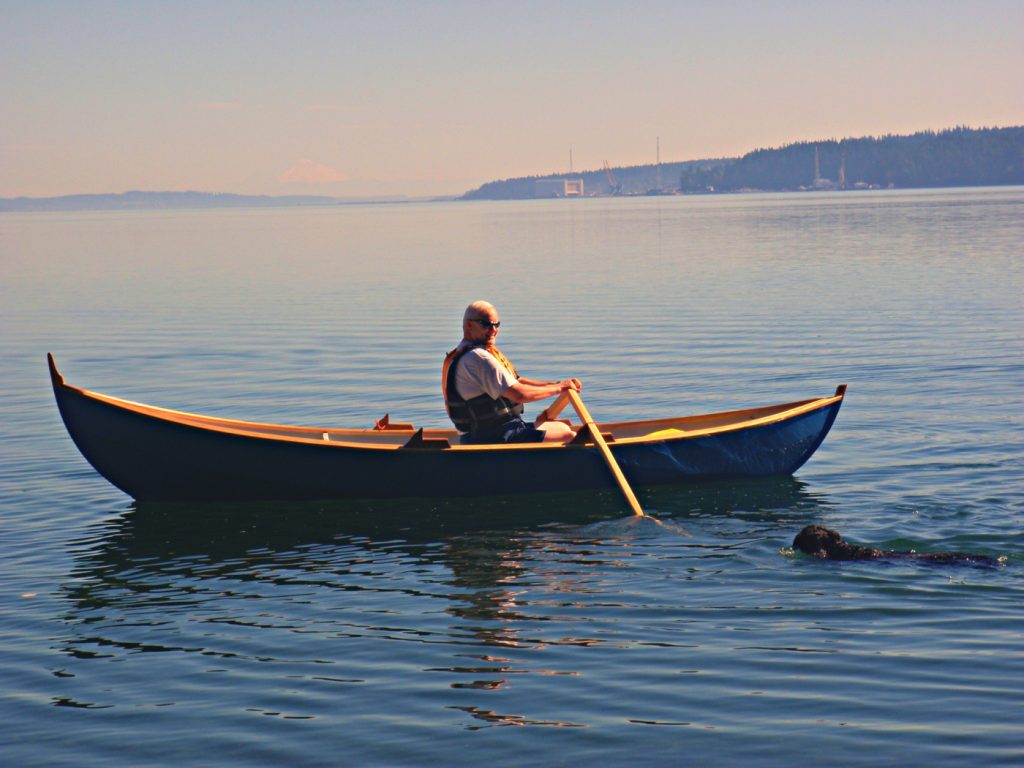 He's a well known small boat designer whose boats are largely based on, or are derivatives of, traditional Norse boats or those of the Shetland Islands. While not a stitch and glue, it does involve marine plywood planks in a lapstrake style.  His plans include some full size patterns for molds, stems and frames, so one does not have to loft the design into real life.   This also uses epoxy but not fiber glass. And, has provided some great experience in boat building.
How I did handle two boats at once?   Well, we had two different houses:  One on Bainbridge Island with a detached two car garage where I built the Faering; and, one up on the north end of Hood Canal, where due to circumstances with which I won't bore you, I found my self with a garage of major proportions — 24′ x 36′ x 12′ tall.  Just the size I needed to build a Tolman with plenty of room to spare.  So, during the week and some weekends, I worked on the small boat and on weekends or other days off, on the Tolman at our Canal place.
Update: As of Sept 2014, we no longer live on BI, but have moved out to our Canal place full time.